Tours
Awakening in Nature Tours and Meditation Hikes
We have a number of tours devoted to appreciating the natural beauty and aliveness this Universe has to offer, while connecting with the same aliveness that animates our bodies. Whether we are gazing at the mountains, the sun, the moon, the stars, the forest, a waterfall, whether hiking in the woods or sitting on the mountain top, we start each tour by setting an intention to help ground us in the present moment. We provide some guidance on attaining a state of expanded awareness designed to connect us with the rich aliveness of the natural world all around. Our guided meditations are designed to create a sense of oneness with all that is, while Mother Nature provides a beautiful container for Self-exploration and Self-discovery.
Each tour concludes with a sharing circle for those who feel motivated to share their experience and some guidance for further Self-investigation. Each participant will leave feeling a deeper connection to all that is as well as tools to help them connect with inner peace in the midst of everyday life.
Price: $40 per person
When: Flexible
Please contact us to schedule your awakening journey into the beautiful mountains of WNC. [Be sure to ask about our discount for local residents.]
"Trey was very inspiring from the start of our interactions and adventure! He recommended some very helpful meditation techniques to use according to what we needed during our drive to the mountain. He took us to a beautiful mountain with a variety of nature elements and scenic spots. He assured us we could take our time at any of the stops and go at our own pace. During our hike and while overlooking the mountain he gave us meditative tid bits to help us to stay present, which was so awesome! Over all we had a very nice hike that was both meditative and informative. We would highly recommend it!" ~ Melissa D.
Vehicular Meditation and Sound Healing
During the Winter months here in Western North Carolina, it can get pretty chilly. We still offer hikes and tours, but we have also started offering scenic car rides for those who want to enjoy the scenery from the comfort of a climate controlled box on wheels (aka Kia Soul). In these excursions, we will play some deeply healing audio tracks from some well-know sound healers in the area. We combine guided meditation techniques, forward motion, beautiful scenery and sound healing to bring about expansive states of awareness. Whether it be the deep base tones of the didgeridoo or soothing singing bowls, you will experience the energetic healing of the sounds while gazing into the natural beauty of the mountains. It's like a sound healing while forest bathing on wheels!
Price: $20 per person
When: Flexible
Full Moon Rising Tour
Have you ever noticed how large the moon appears to be when it's near the horizon? It can appear to be many times larger at the horizon than when it's high overhead. Rather than bore you with the scientific explanation, why not just come enjoy seeing it rising above the Blue Ridge Mountains! Join us for a 2 hour journey to a mountain top and witness the beauty of the moon floating slowly into view. These tours involve minimal hiking. We will find a suitable viewing spot and just bask in the moonlight. We meet an hour before moon rise time (click here for moon rise schedule) and journey to a perfect viewing spot. These tours are held within 1 day before and after the full moon each month.
Price: $40 per person
When: Flexible
Contemplative Stargazing Tour
Join astronomer and author Stephan Martin for an evening of contemplative stargazing as we open ourselves to the wonder, beauty, and mystery of the fall night sky. We'll expand our hearts and minds as we explore the fall constellations, reflect on our place in the Milky Way galaxy, and discuss the origin and nature of the magnificent universe that surrounds us. Bring a blanket or chair for sitting on the ground and dress warmly.
Price: $40 per person
When: Flexible
Sunset Tour
If you haven't seen the sunset from a mountain top, then it's time to. Join us for a 2 hour journey to a mountain top to witness the colorful display of the sun sinking behind the Blue Ridge Mountains. Because the weather here is very unpredictable, we really don't know how spectacular the display will be until it happens. Even rainy days often clear off just in time to have a gorgeous sunset. These tours involve minimal hiking. We will find a suitable viewing spot and meditate with the setting sun. We meet an hour before sunset (click here for sunset schedule) and journey to the perfect viewing spot.
Price: $40 per person
When: Flexible
Seasonal Offerings
CBD Yoga and Hemp Farm Tours (coming soon)
People everywhere are touting the health benefits of using CBD. Western NC has become a hotbed of CBD growers and processors and one has offered a very unique experience for CBD and yoga lovers. Come visit the hemp farm for a one hour tour where you will learn what goes into growing and processing this popular plant. Each participant will be given a complimentary dose of CBD, then be led through a one hour yoga and meditation practice in the greenhouse surrounded by hemp plants. Flowers, tinctures and other CBD-based items will be available for purchase.
Price: $50 per person
When: TBA
Native and Medicinal Plant Hikes
Join us for a 2 hour exploration of the native and medicinal plants that grow in the mountains of WNC. Learn about the various plants and what they are used for, while sipping Ginseng infused tea. Depending on the season you will learn about Ginseng, Bloodroot, Cohosh and Goldenseal, just to name a few. Price includes a plant start and/or medicinal tincture.
Price: $50 per person
Fall Color Tour
The Fall is a beautiful time to visit Western NC as the leaves transition from their rich green color, to yellows, oranges, reds and browns. Join us for a 2 hour journey into the mountains to see Mother Nature's beautiful display of colors. We will pick you up and take you on a scenic drive to a mountain trail near the Blue Ridge Parkway. Hikes begin with setting an intention and some guidance on making the most of your time in nature, followed by a sharing circle. There is no shortage of scenic destinations for any skill level, so let us know if you have any special requests.
Price: $40 per person
Images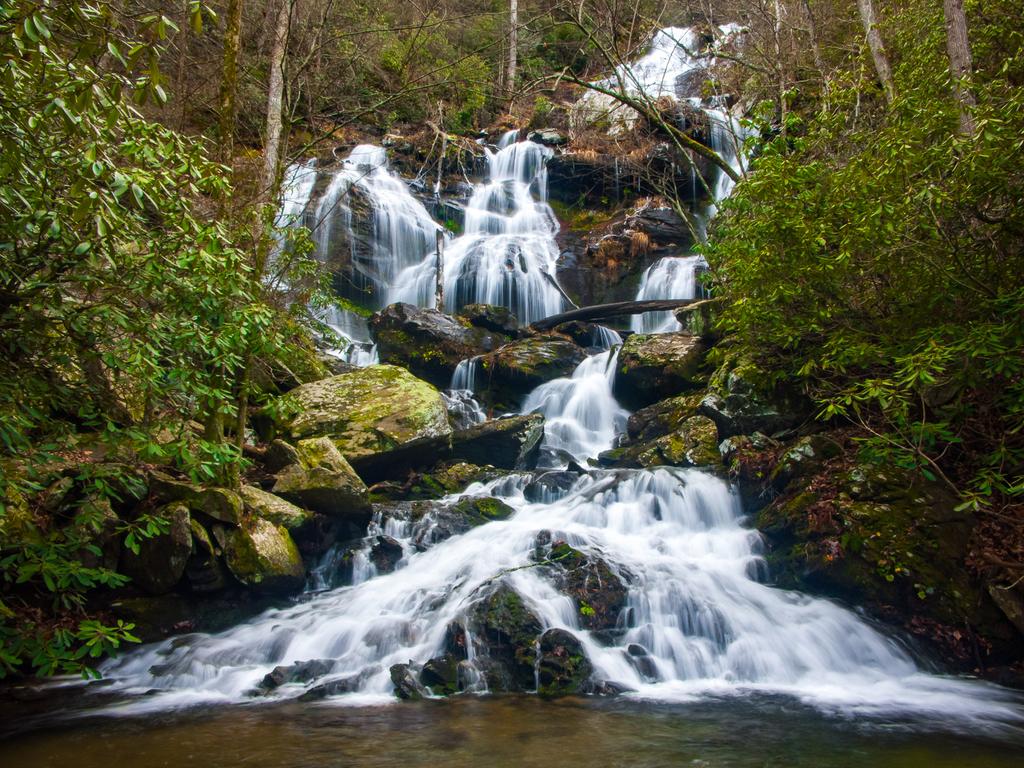 ​