Tours
Awakening in Nature Meditation Hikes
We have a number of tours devoted to appreciating the natural beauty and aliveness this Universe has to offer, while connecting with the same aliveness that animates our bodies. Whether we are gazing at the mountains, the sun, the moon, the stars, the forest, a waterfall, whether hiking in the woods or sitting on the mountain top, we start each tour by setting an intention to help ground us in the present moment. We provide some guidance on attaining a state of expanded awareness designed to connect us with the rich aliveness of the natural world all around. Our guided meditations are designed to create a sense of oneness with all that is, while Mother Nature provides a beautiful container for Self-exploration and Self-discovery.
Each tour concludes with a sharing circle for those who feel motivated to share their experience and some guidance for further Self-investigation. Each participant will leave feeling a deeper connection to all that is as well as tools to help them connect with inner peace in the midst of everyday life.
"This was one of the best, most memorable experiences that I've ever had on a trip. It was soooo enlightening and refreshing. Trey was so kind and knowledgeable about nature and life, in general. My husband and I thoroughly enjoyed this. We highly recommend this experience!" ~ Raven, Nashville, TN
BOOK ONLINE VIA AIRBNB EXPERIENCES
Energetic Healing in Nature
Join Reiki master, Melissa Dunlevy, and meditation guide, Trey Carland, for a unique meditative journey to a mountain top and enjoy a Reiki session while gazing at the beautiful Blue Ridge Mountains. We combine the healing energy of Reiki with the healing energy of Mother Nature to help people clear energetic blockages and open up to the Life force energy all around. Reiki is a powerful healing modality that can bring about experiences of deep peace and clarity long after the end of a session.
We begin by setting an intention for the journey and become grounded in the present moment. We then set off on a meditative hike into the beautiful Blue Ridge Mountains. Along the hike, there will be two 20-minute Reiki sessions followed with time to integrate the experience through meditation, journaling and discussion (optional), all while soaking in the sights and sounds of Nature's own healing energy.
Both Melissa and Trey will be providing Reiki at points along the hike. If you are unfamiliar with Reiki, it is a form of energy healing that involves a practitioner channeling Life force energy to the recipient's body. For the sake of everyone's health and safety, masks will be worn during the Reiki sessions, and can also be done at a distance.
At the conclusion of our journey into energetic healing, we trust that participants will feel more connectedness to the undercurrent of peace in everyday life. Follow up support with either Trey or Melissa is also available. Let the healing power of Nature's energy transform your experience into one of deepening peace and lightness.
BOOK ONLINE VIA AIRBNB EXPERIENCES
Meditation and Stargazing Tour
Journey to the top of a mountain for an evening of meditation and contemplative stargazing. First, author and meditation guide, Trey Carland, will lead you through a meditation connecting with the felt sense of aliveness all around.
Once the light gives way to darkness, astronomer and author, Stephan Martin, will help expand our hearts and minds as we explore the constellations, reflect on our place in the Milky Way galaxy, and discuss the origin and nature of the magnificent universe that surrounds us.
Bring a note pad and pen, blanket, or chair for sitting on the ground and dress warmly. Refunds will be given if the event is cancelled due to weather.
Price: $33 per person
When: June 5 @ 9:00 pm
Tickets: Click Here
Meditation Hike with Intuitive Nature Photography Tour
On this tour we will be using meditation to create a clear channel, as we learn how to listen to and learn from Nature's innate wisdom, using intuitive photography to capture the essence that unites the viewer with what's being viewed. Meditation guide, Trey Carland, will provide instructions on directing attention inward, while remaining aware of the world we inhabit, thereby creating a sense of oneness with all that is. 
Intuitive Nature Photographer and Teacher, Sophia Phillips, provides instructions on how to capture your surroundings in the present moment's essence and beauty via your intuition and thru the lens of your digital camera or cell phone camera. Sophia's Perspective… "When we spend time in Nature we become attuned to hear her voice, it's a language like no other. Once connected we gain clarity, support and peace. Drawing from the metaphors in Nature we gain poetic insight of the soul and bring the inherent wisdom of Nature into the mind and heart. Our lives become less fearful, richer and satisfying... even through the dark nights of the soul. We cease giving our power away...realizing that we had the answers all along." See some of Sophia's work on Instagram and Facebook.
No previous meditation or photography experience required. Only an openness to explore the inner and outer dimensions of existence. The end result is an overall sense of connectedness and well-being, as well as some meaningful photographs to serve as a reminder that you and Nature are in fact one and the same.
PLEASE NOTE: This will be a social-distancing sensitive event, with people driving separately to the meeting site and then maintaining a safe distance from each other.
Price: $60
When: TBA
Sunset & F

ull Moon Rising Tour
Come enjoy seeing the sunset on one horizon and the moon rising on the other. A beautiful way to see the Blue Ridge Mountains! The next full moon is on October 1 and will rise at 7:30 pm (EST). The sun sets at 7:13 pm on that day, so we will get a ball of light double header, viewing the sun set in the west and the moon rise in the east a few minutes later. Join us for a 1.5 hour journey to a mountain top and witness the beauty of the moon floating slowly into view. The amount of hiking involved on this tour is dependent on the participants. We can either take a moderate hike to a mountain top, or park on a mountain and do very little hiking.  
PLEASE NOTE: This will be a social-distancing sensitive event, with people driving separately to the meeting site and then maintaining a safe distance from each other.
Price: $20 per person
When: TBA
CBD Yoga Classes at the Hemp Farm (temporarily on hold)
We are excited to announce two new CBD Yoga classes in the cozy greenhouse of Appalachian Standard hemp farm in Candler, NC. 
CBD Yoga for EveryBODY with Margaret Kirschner
Join Margaret Kirschner, Certified Trauma-Sensitive Yoga Therapist and Certified Substance Abuse Counselor, for CBD Yoga for EveryBODY class . Participants will receive complimentary sample of Appalachian Standard's non-GMO, hemp derived CBD, grown right there at the farm to help them relax and get grounded. More about the class:
Reach for health and wholeness with gentle yoga for real people with real bodies that have some limitations and lots of potential. This is yoga for people who want to move with less pain, feel both relaxed and clear and stay connected to themselves and others. Come home to yourself and begin to reconnect to your breath and your sensations. We move slowly, with curiosity rather than judgment. We connect to a felt sense in the body rather than in the head. The mindset is nudged toward compassionate attention to the natural wisdom of the body with an intention of training the nervous system back to resiliency. Many options are made available to allow you to control if, when, and how to move your own body, when to stop and when to move ahead into challenge. If you live with pain, experience sleep difficulties, are in recovery from addiction, have digestion discomfort, anxiety or depression, this class may offer help and hope.
Price: $15-$25 Sliding Scale*
Register Here (Please remember to bring your own mat)
When: TBA
CBD Vinyāsa Flow & Vegan Treats with Daniel Stonestreet
Join Daniel Stonestreet, yoga instructor and owner of Sun Raw Foods, for CBD Vinyāsa Flow (Level 1 & 2). Participants will receive complimentary sample of Appalachian Standard's non-GMO, hemp derived CBD, grown right there at the farm to help them relax and get grounded. You will also enjoy pre and post class samples of Sun Raw Foods' vegan treats!  More about the class:
Daniel's sensory intuition, kinetic energy and tender-hearted sensitivity guide his practice, suitable for all levels. His vinyasa sessions incorporate breathwork, flowy yoga sequences, positions and dynamic stretching along an artistic and poetic spectrum that always allows for spontaneity and invites inclusive participation. Daniel finds yoga to be the most engaging way to embody, channel and release physical, mental, spiritual and emotional energy, respond to pain, share community and create complete exhilaration.
Price: $15-$25 Sliding Scale*
Register Here (Please remember to bring your own mat)
When: TBA
* The sliding scale allows everyone to participate fully while determining their own ability to pay. This provides optimal accessibility for you while sustaining our ability to continue to offer this awesome experience.
Vehicular Meditation and Sound Healing
If hiking isn't your thing, but you still like to enjoy the outdoor beauty of the Blue Ridge Mountains, we offer scenic car rides. In these excursions, we will play some deeply healing audio tracks from some well-know sound healers in the area. We combine guided meditation techniques, forward motion, beautiful scenery and sound healing to bring about expansive states of awareness. Whether it be the deep bass tones of the didgeridoo or soothing singing bowls, you will experience the energetic healing of the sounds while gazing into the natural beauty of the mountains. It's like a sound healing while forest bathing on wheels!
Price: $20 per person
When: Flexible
Seasonal Offerings
CBD Yoga and Hemp Farm Tours (coming soon)
People everywhere are touting the health benefits of using CBD. Western NC has become a hotbed of CBD growers and processors and one has offered a very unique experience for CBD and yoga lovers. Come visit the hemp farm for a one hour tour where you will learn what goes into growing and processing this popular plant. Each participant will be given a complimentary dose of CBD, then be led through a one hour yoga and meditation practice in the greenhouse surrounded by hemp plants. Flowers, tinctures and other CBD-based items will be available for purchase.
Native and Medicinal Plant Hikes
Join us for a 2 hour exploration of the native and medicinal plants that grow in the mountains of WNC. Learn about the various plants and what they are used for, while sipping Ginseng infused tea. Depending on the season you will learn about Ginseng, Bloodroot, Cohosh and Goldenseal, just to name a few. Price includes a plant start and/or medicinal tincture.
Fall Color Tour
The Fall is a beautiful time to visit Western NC as the leaves transition from their rich green color, to yellows, oranges, reds and browns. Join us for a 2 hour journey into the mountains to see Mother Nature's beautiful display of colors. We will pick you up and take you on a scenic drive to a mountain trail near the Blue Ridge Parkway. Hikes begin with setting an intention and some guidance on making the most of your time in nature, followed by a sharing circle. There is no shortage of scenic destinations for any skill level, so let us know if you have any special requests.
Images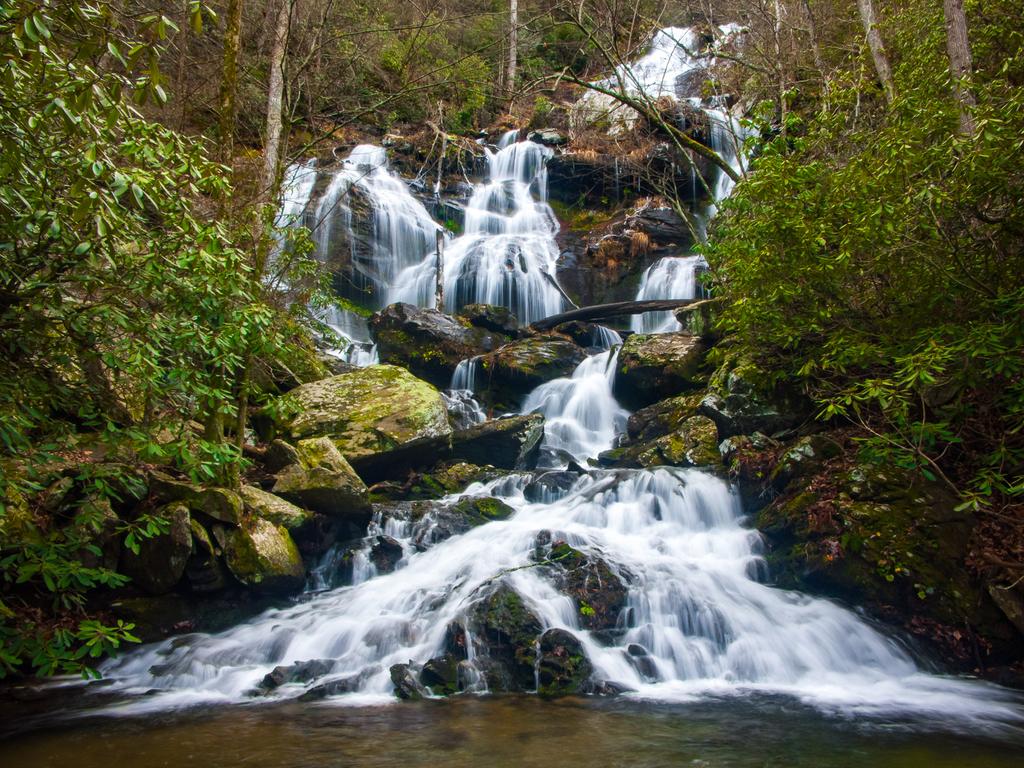 ​